Sisse Skipper Andersen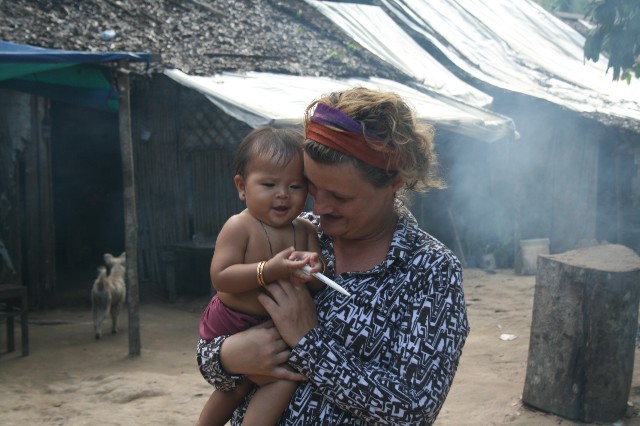 Phnom Kulen, Cambodia 2007

I was born in 1968 in a family who traveled with funfairs. It was probably the starting point for my great decire for travelling. My travel started in 1988 with a 2 ½-year stay in England, where I worked as a Nanny. I have traveled many times in shorter and longer periods. The longest trips have been around South America for 6 months in 93/94, and London to Bali for 7 months in 95. Both of these trips there with the English company Exodus. After Bali I traveled in 4 months through Australia, New Zealand and a few stops in the Pacific. Since then I have traveled much on my own, in 1-2-month periods in South and Central America, Asia, Canada and Mauritius. Plus various smaller tours in Europe. Latest long trip was, 3 months around the world with my family in 2008.

Currently I have visited 70 countries and 7 territories, and been on the road for over 6 years, and working hard to get it extended. But a little difficulty getting new countries where I would like to return to some of the beautiful places I have visited. South and Central America is where my heart is. Fortunately, there are still a few new countries. Tibet and Bhutan are also high on the list of countries I want to visit.
Below you can see the places I have visited and the years.

Jeg er født i 1968, i en familie der rejste med et omrejsende tivoli. Det var nok startskuddet til min store rejselyst. Mine udenlandsrejser startede i 1988 med 2½ års ophold i England, hvor jeg arbejdede som Nanny. Derefter har jeg rejst mange gange i kortere og længere perioder. De længste ture har været Sydamerika rundt i 6 måneder i 93/94, og London til Bali i 7 måneder i 95. Begge disse ture har været med det engelske selskab Exodus. Efter Bali rejste jeg videre i 4 måneder igennem Australien, New Zealand og et par stop i Stillehavet. Siden da har jeg rejst meget på egen hånd, i 1 - 2 måneders perioder i Syd og Mellemamerika, Asien, Canada og Mauritius. Plus diverse mindre ture i Europa. Senest 3 måneder jorden rundt med min familie i 2008.

P.t. har jeg besøgt 70 lande og 7 territorier, og opholdt mig i udlandet i over 6 år, men arbejder hårdt på at få det udvidet. Men lidt svært med nye lande, når jeg også gerne vil tilbage til nogle af de dejlige steder, jeg har besøgt. Syd og Mellemamerika er, hvor mit hjerte er. Heldigvis er der stadig nogle få nye lande der. Tibet og Bhutan står højt på listen over nye lande jeg ønsker at besøge.
Nedenunder kan du se hvilke steder jeg har besøgt og hvilket år.
Africa

Asia

Australia & Pacific

Europe

North & Centralamerica

Southamerica

Marocco

91

2 weeks

Indonesia

95,

2 months

Australia

95/96,08

2,5 months.

Belgium

95

, 1 day

Alaska (ter)

03

1 week

Argentina

94,96,08

5 weeks

Mauritius

97/98

2 weeks

Iran

95,

2 weeks

New Zealand

96,08

1 month

Denmark
Belize

1998,05

1 week

Bolivia

93,96/97

1 month

Tunesia

90,91,92

3 months

Jordan

95,

1 week

Fiji

96,08

2,5 week

France

96,

2 days

Canada

03

3 weeks

Brazil

94,96

2 months

China

95,

2 months

Cook islands(ter)

96,08

15 days

Greece

94,95

2 weeks

Costa Rica

02

2 weeks

Chile

93/94,08

3 weeks

Laos

95,06,07

3½ weeks

French Polynesia

96,08

12 days

Italy

95,96,04,06/07

2,5 weeks

Guatemala

98/99,01/02,05

2 months

Colombia

93,94

1 month.

Malaysia

95,

2 weeks

Solomon Islands

08,

1 week

Malta

94,

1 week

Honduras

05

1 day

Ecuador

93

2 weeks

Pakistan

95,

3 weeks

Vanuatu

08,

2 weeks

Nederland

00,

3 days

Mexico

99,05

1 month

Paraguay

94,96

1 week

Singapore

95,

3 days

Easter island

08,

5 days

Norway

96,

1 week

USA

96,01,03

2 weeks

Peru

93,97,06

3 months

Syria

95,

1 week

Sweden

01,04,

1 week

Venezuela

94

1 week

Thailand

95,00,06,07

7 weeks

Germany

94,95,03,04,

2 weeks

Uruguay

08,

3 days

Turkey

95,07

4 weeks

Chezh Rep.

03,08/09

11 days

Vietnam

95,06

1 month

UK

2 ½ year89-91

+ yearly

Hong Kong (ter)

95,

4 days

Luxembourg

04,

3 days

Cambodia

06,07

3½ week

Liechtenstein

04,

1 day

Japan

07,

3 days

Schweizerland

04,

2 days

Austria

04,

1 week

Slovenia

04,

1 day

Kroatia

04,

1 day

Hungary

04,

1 week

Slovakia

04,

3 days

Polen

04,

4 days

Ireland

05,08,

13 days

Estonia

06

3 days

Latvia

06,07

5 days

Litaunia

06

3 days

Finland

06,

2 days

Russia

06,

7 days

Ukraine

07,

2 days

Moldova

07,

2 days

Rumania

07,

6 days

Bulgaria

07,

6 days